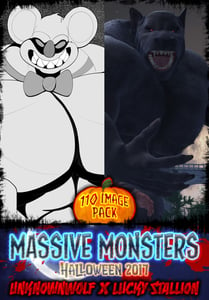 $

10.00
Hallows Eve draws near,
the night when monsters prowl.
Are you screaming in fear,
or is that a lust filled howl?
Unknown Wolf is back, this time with Lucky Stallion to bring us many Hunky muscle filled treats! This time both in 2D and 3D! (and what big Ds they are!)
This Halloween features twice as much content as before!
Lots of furry men with big muscles, and the trick this time is it's sprinkled with quite a few kinks! Some vore, some hyper, some Transformation. All muscle bound and lewd studs~!
Contents include:
Guys Only (no females),
Nudity, Sex, Various Creatures including Humans
Hyper Cocks and Muscles
Soft Oral Vore, Anal Vore, Cockvore
Nothing gory or overtly grotesque. It's all pretty tame sweet kinky stuff!
---------------------
Artist's FA Page:
www.Furaffinity.net/user/unknownwolf
www.Fuarffinity.net/user/lucky-stallion
Majority of our profits go straight to the artist! Support your favorite artist by buying their art!
---------------------
Want to publish your own art pack or Novel?
Send us your ideas to swallowtailproductions@gmail.com
Let us help publish you!
WARNING
The files are png files compressed in a .rar folder. You'll need software that can extract these files to view them.
Go here: http://download.cnet.com/WinRAR-32-bit/3000-2250_4-10007677.html
For a free application to extract these files.